Orthodontist Hialeah, Fl.
If you are looking for Invisalign or braces for yourself or your kids, then you are probably trying to find top rated Orthodontist in Hialeah to make sure you end up with a beautiful smile. There's only one problem. How do you know who is the best Orthodontist in Miami to visit for your Invisalign or braces?
The decision is simple as there is only one board-certified orthodontist in all of North Miami and that is Dr. Carmen Briceño Crespi at Lakes Orthodontics. Dr. Carmen Briceño Crespi has specialized training in the field of orthodontics and is the only orthodontist that is certified by the American Board of Orthodontics (visit https://www.americanboardortho.com to verify the education of your orthodontist). She has won several national awards in orthodontics and is now a faculty board member of Miami Children's Hospital for the specialty of orthodontics.
Top Rated Orthodontist Hialeah, Fl!
When treated by a board certified orthodontist you are assured that you will receive the best and latest techniques in orthodontic treatment; not only with popular treatments like Invisalign but especially with a more advanced implementation of braces. When dealing with an Orthodontics specialist, most people are concerned that they cannot afford the very best treatment.
This is simply not true as Lakes Orthodontics provides payment options to help fit any budget with no interest and zero down payment. Lakes Orthodontics also accepts most major PPO insurances, and they provide a complimentary consultation for all new patients. Something to keep in mind is that in comparison to a general dentist, an orthodontic specialist has substantially more training and expertise.
This advantage normally has two major cost saving factors in that treatment typically takes less time and more importantly the treatment is done correctly from day one. So, for the very best in orthodontic treatment, all you have to do is visit Lakes Orthodontics in Miami Lakes. It's just a quick trip over on the Palmetto Expressway and find us about a half mile west of the 154th street exit. If you are coming from the east side, just take 49th Street west to West 16th Avenue and come north to Miami Lakes Drive then west to 80th Avenue. At Lakes Orthodontics, we'll make it worth your while!
From Our Blog:
Are you looking for braces in South Florida?
Well, you are in luck because Miami Lakes is hometown to South Florida's premier orthodontic specialist, Dr. Carmen Briceño Crespi.  Her practice, Lakes Orthodontics is dedicated to helping children, teens and adults to smile with confidence with the use of the most advanced orthodontic treatments including metal, clear, and colorful braces as well as a full line of Invisalign and Invisalign Teen products.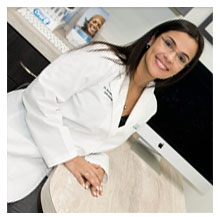 Dr. Crespi is an award winning, board certified orthodontic specialist and has successfully completed over 11,000 orthodontic cases.  She has the finest education as she graduated #1 from University of Florida Dental School and is now a board certified by the American Board of Orthodontics.  She is also a member of the American Association of Orthodontists, American Dental Association, and the Florida Dental Association. Dr. Briceño Crespi is also an attending faculty member at Miami Children's Hospital heading the orthodontic curriculum for the pediatric dental residents.
Education, awards and experience! It's no wonder that thousands of parents and patients love and trust Dr. Crespi with their smile.   If you would like to have Dr. Crespi help you with your smile then please contact Lakes Orthodontics today for a 100% free consultation and get started on your beautiful smile today!