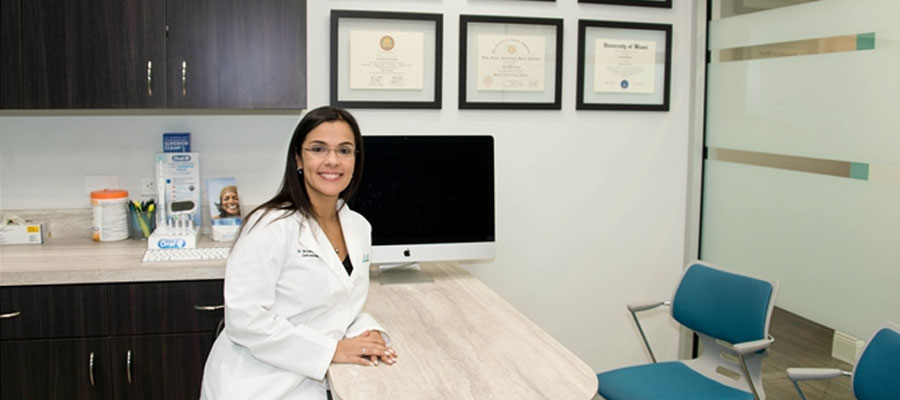 Miami Lakes Orthodontics & Invisalign Specialist
Looking for an award-winning, board-certified, orthodontist specialists is in Miami Lakes? Look no further than Dr. Carmen Briceño Crespi and Lakes Orthodontics.
Dr. Carmen Briceño Crespi was born in Venezuela and moved to Miami Lakes during her teenage years. She graduated from Hialeah-Miami Lakes Senior High School in 1996. She obtained her Bachelor's in Science degree from the University of Miami, graduating Magna Cum Laude. She then attended the University of Florida where she graduated top of her dental class and obtained her Doctorate of Medical Dentistry degree. She went on to complete her orthodontic specialty training at TAMHSC – Baylor College of Dentistry, earning a Master's degree in Oral Biology and a certificate in Orthodontics. Her thesis on Miniscrew Implants, won the Milo Hellman Award, a prestigious research award from the AAO, which recognizes the most meritorious research paper submitted by a resident in a graduate orthodontics program in the U.S. and Canada
Since 2007, Dr. Briceño Crespi has been practicing orthodontics in South Miami alongside her mentor at Mariani Orthodontics. She is experienced in the latest technologies, such as Self-Ligating brackets, temporary anchorage devices, Invisalign®, Invisalign® Teen, as well as soft tissue lasers.
She is Board certified by the American Board of Orthodontics and is a member of the American Association of Orthodontists, American Dental Association, and the Florida Dental Association. Dr. Briceño Crespi is also an attending faculty member at Miami Children's heading the orthodontic curriculum for the pediatric dental residents.
Away from the office, Dr. Briceño Crespi enjoys traveling, exercising and spending time with her family and friends. She is married and loves her baby daughter and her American Bulldog.
Do you have a question? Please call us at (305) 820-6800 or use the form at the top of the page to request a FREE, no obligation consultation. We would like to make sure you know everything there is to know about Dr. Briceño Crespi at Miami Lakes Orthodontics before you settle on which practice you are going to chose for you and or your children. We know all about the crazy claims and huge Invisalign discounts circulating in the only the Sunday papers but just about every magazine, flyer and piece of mail you receive. Give us the opportunity to show you why more than 12,000 families have chosen to do business with Miami Lakes Orthodontics over all of those other cheap braces offers. Furthermore, if would like additional information about braces, clear aligners, or Invisalign, please take a look at our blog.