Looking for Invisalign treatment in or near West Miami, Fl?
Too many people are totally turned off by the thought of getting braces and this has prevented them from getting their teeth straightened. Fortunately, there is Invisalign clear aligners to straighten your teeth so you do not have to use traditional metal braces. You can achieve that stunning smile you want, with perfectly straight teeth. Invisalign clear aligners are good for teens and adults; but you must ask your orthodontist to ensure you are a good patient for this appliance. Invisalign clear aligners are custom-made for you; they are nearly invisible and fits snugly on your teeth. The aligners are engineered to use the right amount of force required in the right place at the right time to move the teeth into position. Over time aligners are changed as you follow the plan set by your orthodontist. Please come to the office of Dr. Carmen Briceño Crespi at Lakes Orthodontics for a consultation.
When looking for Invisalign in West Miami, Fl you will find a lot of competition for your business. Nevertheless, it is important to highlight that not all Invisalign dentist are the same. We would like you to take a minute and take a checkout our reviews. Dr. Carmen Briceño Crespi is not the top rated orthodontist in South Miami FL., by accident! Very few Invisalign providers in the area can match the experience and technology Dr. Carmen Briceño Crespi at no extra cost. Give us a call today for a free consultation and ask for a free before and after scan!
For more information see the article about Invisalign West Miami, Fl
---
Are you looking for braces in South Florida?
Well, you are in luck because Miami Lakes is hometown to South Florida's premier orthodontic specialist, Dr. Carmen Briceño Crespi.  Her practice, Lakes Orthodontics is dedicated to helping children, teens and adults to smile with confidence with the use of the most advanced orthodontic treatments including metal, clear, and colorful braces as well as a full line of Invisalign and Invisalign Teen products.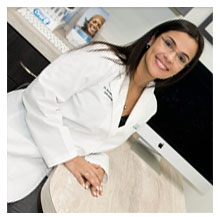 Dr. Crespi is an award winning, board certified orthodontic specialist and has successfully completed over 11,000 orthodontic cases.  She has the finest education as she graduated #1 from University of Florida Dental School and is now a board certified by the American Board of Orthodontics.  She is also a member of the American Association of Orthodontists, American Dental Association, and the Florida Dental Association. Dr. Briceño Crespi is also an attending faculty member at Miami Children's Hospital heading the orthodontic curriculum for the pediatric dental residents.
Education, awards and experience! It's no wonder that thousands of parents and patients love and trust Dr. Crespi with their smile.   If you would like to have Dr. Crespi help you with your smile then please contact Lakes Orthodontics today for a 100% free consultation and get started on your beautiful smile today!
---
Invisalign Florida City FL.,