Braces for Kids
We're not all born with perfect teeth! So don't worry if your kid's teeth are not perfectly straight. Dr. Briceno Crespi is a specialist in orthodontic treatment for kids and is an authority on early childhood orthodontic procedures. In fact, Dr. Briceno Crespi was awarded the title of faculty board member of Miami Children's Hospital dental program where she teaches specialty of children's orthodontics.
Braces for Teens
Many parents and their teens get anxiety just thinking of adding braces into the emotional and physical roller coaster of adolescence. Not to worry, at Lakes Orthodontics we offer you the latest and "coolest" ways to straighten teeth and have a beautiful smile. Starting with products like Invisalign Teen, Clear Braces, and even colorful braces options for teens who want to express their individual style, while wearing braces.
Braces for Adults
Many adults think that braces are for kids and that they would "look ridiculous" if they wore braces. Many adults used to have this mindset but did you know that there are more adults in orthodontic treatment now than ever before? There are so many options available now for adults to improve their smile that are less noticeable than traditional metal or ceramic braces such as Invisalign and clear braces…
Orthodontist – Braces Specialist in Miami, Fl.
Thank you for visiting the website of Lakes Orthodontics. We specialize in helping children, teens, and adults smile with confidence. We are a family owned and operated orthodontic practice in Miami specializing in the latest technologies such as self-ligating brackets, temporary anchorage devices, metal and clear braces, Invisalign, Invisalign Teen, as well as soft tissue lasers. Our practice is located in the heart of beautiful Miami Lakes, FL and we serve patients from both Miami-Dade and Broward Counties. Lakes Orthodontics is a unique combination of the absolute highest level of orthodontic treatment with a very relaxed family friendly atmosphere. Patients are always welcomed with a smile by our friendly and informative team and all diagnoses and treatments are performed by the award-winning orthodontic specialist, Dr. Carmen Briceño Crespi.
Dr. Briceno Crespi is an authority in orthodontics as she is a board certified orthodontic specialist (ABO, AAO, FAO) who graduated #1 in her dental class at UF and excelled in her specialty throughout her career. She has received various awards for excellence in orthodontics on the state and national level and she has the honor of being an attending faculty member at Nicklaus Children's Hospital (Miami CHildren's Hospital).
We are confident that you will feel comfortable and absolutely love your entire experience here at Lakes Orthodontics from your very first visit. Please feel free to navigate our website and learn more about our team and treatment options. Remember that your beautiful smile is only a click or phone call away so sign up today for your complimentary orthodontic consultation.
Google+ Reviews
This is a great orthodontic office for the whole family. Very clean, up-to-date equipment, friendly staff, very considerate and appointments are on time. Both my girls have gotten their braces there one of them has autism and they were very patient and sweet with her. Dr. Crespi and Alex make you feel at home, I would definitely recommend them and I have 😉👍
This place is great. I have 2 Daughters ages 10 & 8. I started with my oldest when she was 8 and the experience and results were Awesome. My youngest just started with her braces recently and she's doing great. I can't say enough good things about this place. Facility is state of the art and clean. They make you feel like your family. Highly recommend! A++
Excellent service all time. The place has perfect environment. Very professional. I love it. I recommend this place.
From Our Blog:
Are you looking for braces in South Florida?
Well, you are in luck because Miami Lakes is hometown to South Florida's premier orthodontic specialist, Dr. Carmen Briceño Crespi.  Her practice, Lakes Orthodontics is dedicated to helping children, teens and adults to smile with confidence with the use of the most advanced orthodontic treatments including metal, clear, and colorful braces as well as a full line of Invisalign and Invisalign Teen products.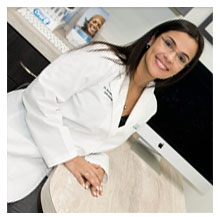 Dr. Crespi is an award winning, board certified orthodontic specialist and has successfully completed over 11,000 orthodontic cases.  She has the finest education as she graduated #1 from University of Florida Dental School and is now a board certified by the American Board of Orthodontics.  She is also a member of the American Association of Orthodontists, American Dental Association, and the Florida Dental Association. Dr. Briceño Crespi is also an attending faculty member at Miami Children's Hospital heading the orthodontic curriculum for the pediatric dental residents.
Education, awards and experience! It's no wonder that thousands of parents and patients love and trust Dr. Crespi with their smile.   If you would like to have Dr. Crespi help you with your smile then please contact Lakes Orthodontics today for a 100% free consultation and get started on your beautiful smile today!